Current Board Members & Program Chair:
The ECRO Board is composed of a minimum of 6 and a maximum of 8 members (Art. 7 Constitution). Every two years prior to the General Assembly the following new Board members are elected: President-Elect, General Secretary, Executive Secretary/Treasurer and one Councillor. During the first meeting of the new Board additional co-opted members (max. 2 persons) are chosen according to the needs of the Society (Description of ECRO Board Member Position).
---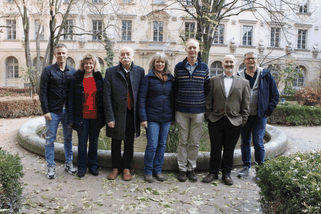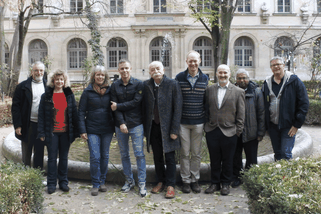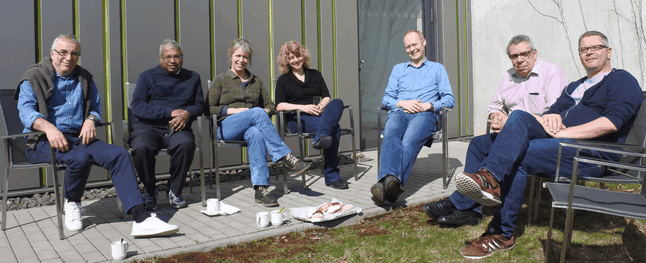 ---
We would like to thank our board members for their valuable contributions over the years.
2019  (Extraordinary General Assembly Trieste, I)
President: Trese Leinders-Zufall, NL
President elect: Thomas Hummel, DE
Past President: Peter Brennan, UK
General Secretary: Stefan Fuss, DE
Executive Secretary / Treasurer:  Matthieu Keller, FR
Elected member: Ivan Manzini, IT
Co-opted members: Scott McGrane, AU
Co-opted members: Pablo Chamero, ES
---
2018  (General Assembly Würzburg, DE)
President: Trese Leinders-Zufall, NL
President elect: Thomas Hummel, DE
Past President: Peter Brennan, UK
General Secretary: Stefan Fuss, DE
Executive Secretary / Treasurer:  Marika Kapsimali, FR
Elected member: Ivan Manzini, IT
Co-opted members: Scott McGrane, AU
---
2016  (General Assembly Athens, GR)
President: Peter Brennan, UK
President elect: Trese Leinders-Zufall, NL
Past President: Wolfgang Meyerhof, DE
General Secretary: Didier Trotier, FR
Executive Secretary / Treasurer:  Krishna Persaud, UK
Elected member: Stefan Fuss, DE
Co-opted members: Marika Kapsimali, FR
ECRO Newsletter Editor: Paolo Pelosi, IT
---
2014  (General Assembly Dijon, FR)
President: Wolfgang Meyerhof, DE
President elect: Peter Brennan, UK
Past President: Anna Menini, IT
General Secretary: Didier Trotier, FR
Executive Secretary / Treasurer: Krishna Persaud, UK
Elected member: Teun Dekker, SW
Co-opted members: Stefan Fuss, DE; Marika Kapsimali, FR
ECRO Newsletter: Paolo Pelosi, IT
---
2012  (General Assembly Stockholm, SE)
President: Anna Menini, IT
President elect: Wolfgang Meyerhof, DE
Past President: Milagros Gallo, SP
General Secretary: Didier Trotier, FR
Executive Secretary / Treasurer: Krishna Persaud, UK
Elected member: Teun Dekker, NL
Co-opted members: Heinz Breer, DE
ECRO Newsletter: Paolo Pelosi, IT    
---
2010  (General Assembly Avignon, FR)
President: Milagros Gallo (SP)
President elect: Anna Menini (IT)
Past President: Heinz Breer (DE)
General Secretary: Didier Trotier (FR)
Executive Secretary / Treasurer:  Krishna Persaud (UK)
Elected member: Teun Dekker (SE)
ECRO Newsletter: Paolo Pelosi (IT)
---
2008  (General Assembly Portoroz, SI)
President: Heinz Breer (DE)
President elect: Milagros Gallo (SP)
Past President: Annick Faurion (FR)
General Secretary: Sylvia Anton (FR)
Executive Secretary / Treasurer:  Krishna Persaud (UK)
Elected member: Albertino Bigiani (IT)
Co-opted members: Anne Abriat (FR), Anna Maria Angioy (IT)
ECRO Newsletter: Paolo Pelosi (IT)
---
2006  (General Assembly Granada, ES)
President: Annick Faurion (FR)
President elect: Heinz Breer (DE)
Past President: Bill Hansson (SE)
General Secretary: Anna Maria Angioy (IT)
Executive Secretary / Treasurer: Krishna Persaud (UK)
Co-opted members: Milagros Gallo (SP), Tine Valentincic (SL)
ECRO Newsletter: Paolo Pelosi (IT)
---
2004  (General Assembly Dijon, FR)
President: Bill Hansson (SE)
President elect: Annick Faurion (FR)
General Secretary: Ottorino Belluzzi (IT)
Executive Secretary / Treasurer: Krishna Persaud (UK)
Co-opted members: Heinz Breer (DE), Anna Maria Angioy (IT), Milagros Gallo (SP)
ECRO Newsletter: Krishna Persaud (UK)
---
2002  (General Assembly Erlangen, DE)
President: Bill Hansson (SE)
Vice President: Joerg Strotman (DE)
General Secretary: Ottorino Belluzzi (IT)  
Executive Secretary / Treasurer: Krishna Persaud (UK)
Co-opted members: Annick Faurion (FR), Gerd Kobal (DE), Benoist Schaal (FR)
ECRO Newsletter Editor: Steven Nordin (SE)
---
2000  (General Assembly Brighton, UK)
President: Gerd Kobal (DE)
Vice President: Ottorino Belluzzi (IT)
General Secretary: Martine Cattarelli (FR)
Executive Secretary / Treasurer: Krishna Persaud (UK)
Co-opted members: Bill Hansson (SE); Jörg Strotmann (DE)
ECRO Newsletter Editor: Paul Castle (UK)
---
1998  (General Assembly Siena, IT)
President: Steve van Toller (UK)
General Secretary: Christian Margot (CH)
Executive Secretary / Treasurer: Jean-Pierre Calame (CH; 1998-1999); Krishna Persaud (UK; 1999-2000)
Elected member: Martine Cattarelli (FR)
Co-opted members: Cornelis J. den Otter (NL), Gerd Kobal (DE), Krishna Persaud (UK)
ECRO Newsletter Editor: Paul Castle (UK)
---
1996  (General Assembly Zurich, CH)
President: Hans Hatt (DE)
General Secretary: Christian Margot (CH)
Executive Secretary / Treasurer: Jean-Pierre Calame (CH)
Co-opted members: Cornelis J. den Otter (NL); Martine Cattarelli (FR); Paolo Pelosi (IT)
ECRO Newsletter Editor: Steve van Toller (UK)
---
1994  (General Assembly Blois, FR)
President: Hans Hatt (DE)
Vice-President: Rémi Gervais (FR)
General Secretary: Bonnie van der Pers-King (NL)
Executive Secretary / Treasurer: Jean-Pierre Calame (CH)
Co-opted members: Christian Margot (CH); Cornelis J. den Otter (NL)
ECRO Newsletter Editor: Steve van Toller (UK)    
---
1992  (General Assembly Munich, DE)
President: Gordon Birch (UK)
Vice President: Hans Hatt (DE)
General Secretary: Bonnie van der Pers-King (NL)
Executive Secretary / Treasurer: Dieter Glaser (CH)
Co-opted members: Hanna Mustaparta (NO); Rémi Gervais (FR); Jean-Pierre Calame (CH)
ECRO Newsletter Editor: Steve van Toller (UK)    
---
1990  (General Assembly Noordwijkerhout, NL)
President: Gordon Birch (UK)
Vice President: Hans Hatt (DE)
General Secretary: Hans van der Starre (NL)
Executive Secretary / Treasurer: Dieter Glaser (CH)
Co-opted members: Hanna Mustaparta (NO); Wilhelm Pickenhagen (CH); Bonnie van der Pers-King (NL); Remi Gervais (FR)    
ECRO Newsletter Editor: Steve van Toller (UK)
---
1988  (General Assembly Coventry, UK)
President: André Holley (FR)
Vice President: Gordon Birch (UK)
General Secretary: Hans van der Starre (NL)
Executive Secretary / Treasurer: Dieter Glaser (CH)
Co-opted members: Hanna Mustaparta (NO); Hans Hatt (DE); Wilhelm Pickenhagen (CH); Henk van der Wel (NL)  
ECRO Newsletter Editor: Steve van Toller (UK)
---
1986  (General Assembly Davos, CH)
President: André Holley (FR)
Vice President: Gordon Birch (UK)
General Secretary: Hans van der Starre (NL)
Executive Secretary / Treasurer: Dieter Glaser (CH)
Co-opted members: Claudine Masson (FR);  Karl Ernst Kaissling (DE); Wilhelm Pickenhargen (CH); Henk van der Wel (NL)  
ECRO Newsletter Editor: Michael Lindley (UK)    
---
1984  (General Assembly  Lyon, FR)
President: Jurg Solms (CH)
Vice President: André Holley (FR)
General Secretary: Claudine Masson (FR)
Executive Secretary / Treasurer: Dieter Glaser (CH)
Co-opted members: Gordon Birch (UK); Karl Ernst Kaissling (DE); Hans van der Starre (NL); Henk van der Wel (NL)  
ECRO Newsletter Editor: Michael Lindley (UK)    
---
1982  (General Assembly  Regensburg, DE)
President: Jurg Solms (CH)
Vice President: André Holley (FR)
General Secretary: Claudine Masson (FR)
Executive Secretary / Treasurer: Dieter Glaser (CH)
Co-opted members: Gordon Birch (UK); Karl Ernst Kaissling (DE); Hans van der Starre (NL); Henk van der Wel (NL)  
ECRO Newsletter Editor: Michael Lindley (UK)
---
1980  (General Assembly Noordwijerhout, NL)
President: David Ottoson (SE)
Vice President: Egon Peter Köster (NL)
General Secretary: André Holley (FR)
Executive Secretary / Treasurer: Erling Sundt (CH)
Co-opted members: Peter Schudel (CH); Helmut Altner (DE); Jurg Solms (CH); Gordon Birch (UK); Claudine Masson (FR)
ECRO Newsletter Editor: Roland Harper (UK)
---
1978  (General Assembly  Pavia, IT)
President: David Ottoson (SE)
Vice President: Egon Peter Köster (NL)
General Secretary: André Holley (FR)
Executive Secretary / Treasurer: Erling Sundt (CH)
Co-opted members: Peter Schudel (CH); Helmut Altner (DE); Jurg Solms (CH)
ECRO Newsletter Editor: Roland Harper (UK)
---
1976  (General Assembly  Reading, UK)
President: David Ottoson (SE)
Vice President: Egon Peter Köster (NL)
General Secretary: George Dodd (UK)
Executive Secretary / Treasurer: Erling Sundt (CH)
Co-opted members: Peter Schudel (CH); Helmut Altner (DE); Jurg Solms (CH); André Holley (FR)
ECRO Newsletter Editor: Roland Harper (UK) 
---
1974  (General Assembly Orsay, FR)
President: Muss G.J. Beets (NL)
Vice President: David Ottoson (SE)
General Secretary: George Dodd (UK)
Executive Secretary / Treasurer: Erling Sundt (CH)
Co-opted members: J Boeckh (DE); Kjell B. Døving (NO); Jacques Le Magnen (FR); Peter Schudel (CH)
ECRO Newsletter Editor: Roland Harper (UK)
---
1972  (First General Assembly, Cannes, FR)
President: Jacques Le Magnen (FR)
Vice President: Muss G.J. Beets (NL)
General Secretary: T. Michael Poynder (UK)
Executive Secretary / Treasurer: Erling Sundt (CH)
Co-opted members: J Boeckh (DE); Kjell B. Døving (NO); Egon P. Köster (NL); Erik von Sydow (SE)
ECRO Newsletter Editor: Roland Harper (UK)
---
1970  (Constitutive Assembly of ECRO - Zeist/Utrecht, NL)
President: Jacques Le Magnen (FR)
Vice President: Erik von Sydow (SE)
General Secretary: T. Michael Poynder (UK)
Executive Secretary / Treasurer: Erling Sundt (CH) 
Co-opted members: J. Boeckh (DE): Kjell B. Døving (NO); Muss G.J. Beets (NL)